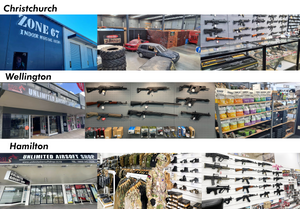 About Us
Unlimited Airsoft Shop was established in Jan 2013 with a goal to lead Airsoft into becoming a well known sport in New Zealand, we stock airsoft parts, accessories and tactical gear as well as IPSC shooting equipment.
We now have three stores, one in Wellington, one in Hamilton and our main store in Christchurch.
Located in a 2000sqm building, Zone 67 is our indoor gaming field with airsoft, gel ball and archery available year round.